Having a sibling in neonatal care can be an incredibly stressful time for a child. Beavis(2007) describes how the disruption in routine, the financial, physical, and emotional strain on the family can evoke a strong emotional response in siblings.
Trauma surrounding a hospital admission of a baby or child does not just impact on the parents alone.Lemmon et al (2020) states that Mental health problems are not unique to parents in the home and can affect siblings and other caregivers.
Following the COVID 19 Pandemic family access to the neonatal unit has changed dramatically across the world.Prior to the pandemic neonatal units had made great progress to place the family at the heart of neonatal care, many units allowed 24-hour access for parents and their children, neonatal units went out of their way to support sibling involvement in the care of their brother or sister. There may still be a period of adjustment to get back to life prior to the pandemic but there are many things we can continue to do to support siblings throughout their baby's neonatal stay.
Supporting Sibling Connection
Sibling Packs
Scrap books: Encourage each child to collect photos and create drawings of their sibling. Support them to write about what their sibling looks like; they could write messages of love. (include stickers and colouring pens to decorate)
Craft activity: Include a pack of two frames, one to put next to their siblings' bed that includes a photograph of them and one for them to put next to their bed of their baby in the neonatal unit.
Books: Hand to hold provide excellent resources for families, they list age-appropriate books for siblings. Hand to Hold recommended book list
Toys: Provide a small teddy or doll and blanket for the sibling to care for.
Activity packs: There are several activity packs available that look at colouring in the neonatal unit but also with space for the child to write about how they feel. Here are some examples:
NICU visits
If the neonatal unit allows children to visit it is important that there is some preparation for what the environment will look like.
Take time to describe what the NICU looks like, talk about photos, and discuss the sensory environment.
Describe what they will be able to do during the visit; read a book, help with cares or hold their sibling.
Plan the visits with the neonatal team, it is important that everyone has a good understanding of what is expected, for example can the child play with a toy next to the bedspace, are they allowed to touch their baby. Spend time ensuring that the family and neonatal MDT has the same expectations.
Sibling weighing: invite the sibling to attend during weighing day, encourage them to help be involved, take a polaroid picture of the event. Invite the sibling to an art session to make a card of the session, encourage them to talk about their brother or sister and to take the card in to school for show and tell.
Lullaby Hour: Encourage the siblings to attend during lullaby hour, what song has meaning to them, sing softly with the musician and listen to the song again at home.
Play area: Many neonatal units will have a sibling play area; this may include an old incubator where the sibling can practice caring for their doll or playmobile have a neonatal set – Playmobile maternity room
Supper club: sharing an evening meal as a family, meeting other families for peer support, learning about neonatal care can be an extremely supportive event.
Sibling support session
If siblings are not allowed onto the neonatal unit, you might want to consider monthly session for siblings to play together and parents to talk. Play is the main childhood occupation. Milteer et al (2011) describes how through play, children learn survival skills, build resilience to deal with adverse life events and develop self-efficacy.
Additional ideas
Letters home to brother or sister.
Beads of courage: The beads of courage offers support to the baby born too soon or with complex needs, it is described as a tangible way to record the baby's journey through the NICU and gives a meaningful record to help explain to peers and their child as they grow about their resilience, strength and courage. Siblings have reported to enjoy threading the beads as it adds understanding to their baby's journey
https://beadsofcourageuk.org/our-programmes/
Having a baby in the neonatal unit is an incredibly traumatic time, for those of us who have the honour of working in neonatal care we need to do everything we can to listen to the individuality of each family and do what we can to support the family participation and well-being.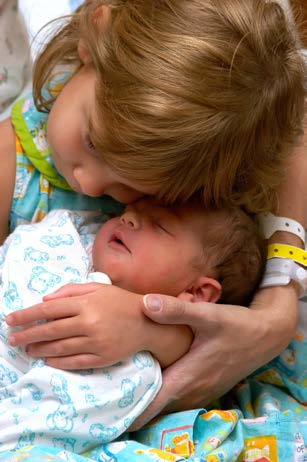 References
Beavis (2007) What about brothers and sisters? Helping siblings cope with a new babybrother or sister in the NICU. Infant 3 (6)
Lemmon ME, Chapman I, Malcolm W, Kelley K, Shaw RJ, Milazzo A, et al. Beyond theFirst Wave: Consequences of COVID-19 on High-Risk Infants and Families. Am JPerinatol. 2020;37(12):1283-8.
Milteer R, Ginsburg K (2011) The importance of play in promoting healthy childdevelopment and maintaining strong parent-child bond: focus on children in poverty.Pediatrics 129 (1): e204-13