To celebrate our first neonatal unit course this month we would like to give a brief overview of different models of neonatal care. Whichever model you choose to use, always think about the sensory environment.
Baby Behaviour
Dr. T Berry Brazelton an Emeritus Professor of Paediatrics at Harvard Medical School was able to show the world that newborn babies have an amazing way of communicating what they are thinking and feeling. He focused on observing baby behaviour to understand their interactive capabilities, social skills and unique characteristics.
"I learn every time I see a new baby. Every time I talk to a new parent, I learn from them." Brazelton
Dr. Brazelton encouraged parents and professionals to look at the baby's signs of coping and sensitivity in each of the following four domains: autonomic, motor, behavioural states and responsivity. Together he encouraged health care professionals to observe baby behaviour and adapt handling and the environment to elicit the baby's optimal performance.
Brazelton Centre UK offer training in both the Newborn Behavioural Observation (NBO) and Neonatal Behavioural Assessment Scale (NBAS)
Take home message
Observing baby behaviour is essential practice for everyone working in the neonatal unit. Each subtle sign enables us to individualise and adapt our care.
NIDCAP
Working closely with Dr. Brazelton during this time was Dr. Heidelise Als, a researcher and a clinician. Dr. Als was particularly interested in understanding preterm behaviour. She recognised that the sensory environment of the neonatal unit was in direct contrast to the sensory environment of the womb and that this over stimulating, overwhelming and often painful environment would impact on the developing brain. Through Dr. Als detailed observations she was able to determine when an infant was comfortable or overwhelmed.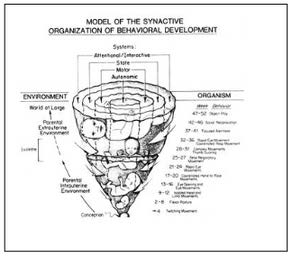 "All living things are in constant communication with their environment. The trick is learning how to understand their method of communication." Mulligan La Ross Dr. Als developed the Synactive Theory of Development to provide a framework for understanding preterm infant behaviour. The five subsystems are:
Autonomic
Motor
States
Attention/interaction
Self- regulation
Each subsystem is described independently, yet they all influence each other.
Dr. Als developed Newborn Individualised Developmental Care Assessment Program (NIDCAP) based on the Synactive theory of development. The focus is on respecting the individuality of each baby as a tiny human and their family. (Westrup, 2007)
The main instrument utilised in the NIDCAP is repeated naturalistic observations of the infant before, during and after caregiving procedures. (Westrup, 2007)
Als et al (2012) state that NIDCAP improves brain development, functional competence, health and life quality. It is cost effective, humane and ethical.
Case Example using brief observation using the Synactive theory of development
Fred was born at 28 weeks, he is now 3 days old. Fred is being cared for in his incubator, there is a cover draped over the top. Fred is sleeping on his tummy, his head is turned to the right, he has CPAP in place to help with his breathing. A CPAP hat covers his head and the folds of his hat dip down over his eyes. He has an oral gastric tube placed in his mouth, held in place by tape on his chin. Fred is wearing a nappy, he is lying on a soft bamboo muslin and a miniboo smelling of his parents is nestled in near his face. His breathing is slow and steady, his colour is even across his body. His arms are tucked in, with his hand near his face and he is sucking gently on his fingers. His legs are tucked in underneath him.
Suddenly there is a loud bang in the room. Fred shoots his legs out straight, over the top of his nest. He changes colour to a deep red, he lets out a cry and then becomes quiet floppy and holds his breathe.
His monitor begins to alarm, quickly his mother opens the incubator door, she greets him with a loving word, and gently tucks his legs back in and rests her hands on him, continuing to whisper soft words of encouragement.
Immediately Fred's breathing becomes steady, his skin returns to an even colour and snuggles back into a restful sleep.
Take home message
It is essential that everyone working in neonatal care have a good understanding of baby behaviour, so that they can adjust their handling and provide individualised age appropriate, neuroprotective care.
Developmental Care
NIDCAP is often considered the gold standard of developmental care. The term developmental care has been applied a wide range of interventions. The aim of developmental care is to implement modifications to the nursery environment and care practices to reduce stress, support the parent infant dyad and promote optimal neurodevelopmental outcomes.
The Neonatal Integrative Developmental Care Model
The neonatal integrative developmental care model (Altimier and Philips, 2016) outlines seven core measures for neuroprotective family-centred developmental care of premature infants. Addressing each core measure relies on good observation of baby behaviour. The seven core measures are arranged in overlapping petals of the lotus and include:
The healing environment
Partnering with families
Positioning and handling
Safeguarding sleep
Minimising stress and pain
Protecting skin
Optimising nutrition.
Altimeir and Philips (2016) state that skin to skin contact is considered the foundation for care of infants in the neonatal unit and is the best sensory environment.
Take home message
Every member of the neonatal team should be encouraged to be aware of the Neonatal Integrative Developmental Care Model and provide neuroprotective interventions to support infant neurobiology, emotional development and the mother/infant dyad.
The universe of developmental care: a new conceptual model for application in the neonatal intensive care unit
The universe of developmental care (UDC) model recognises that the developing brain nor the environment exist in isolation and therefore are dependent on each other for all caregiving activities.
Trauma Informed Care
Trauma results from an event or a series of life events that are physically or emotionally harmful or life threatening to an individual. (Coughlin, 2021)
The concept of trauma informed care has been well established in the mental health field for several decades and was introduced to neonatology in 2013.
Mary Coughlin pioneered the paradigm of trauma informed care and acknowledge that trauma and traumatic stress overwhelm an individual's ability to cope while also changing their neurobiology resulting in immediate short-term changes and life log implications for health and well-being. (Coughlin, 2021)
"A trauma informed approach in the NICU promotes a sense of safety, security, and connectedness while cultivating resilience for infants and families in crisis with far reaching implications for health and well-being." Coughlin 2017
Take home message
All neonatal team members have a duty of care to minimise trauma experienced on the neonatal unit for infant, parents and staff.
Family Integrated Care
Family Integrated Care (FIcare) is a model introduced to the neonatal unit in 2013 by Dr. Shoo Lee. FiCare is based on the Humane Care Model and integrates families as partners in their neonatal care.
Banarjee et al (2018) state that in order for FIC to become the standard of care within a neonatal unit the basic principles of Family Centerd Care (FCC) should already be in place.
FICare is an extension of the principles of FCC, where parents are viewed as core members of the neonatal team, as equal partners in care.
FIcare is based on 4 pillar:
Staff education and support
Parent education
NICU environment
Psychosocial support
Take home message
All members of the neonatal team should have awareness of FiCare and support families as partners in care.
Family Nurtured Intervention (FNI)
Welch (2012) FNI recognises that both the infant and family suffer emotional trauma from separation following neonatal admission. FNI helps families re-establish emotional connection and autonomic co-regulation. (Welch, 2020)
The main focus of FNI is to help mothers and their infants emotionally connect via repeated engagement in "calming sessions." These one-hour session encourage mothers to express a full range of feelings and speak emotionally with their infants in their native language. (Welch, 2020)
Gradually these sessions add further sensory input from hand hugs, skin to skin and scented clothes. Working on the premise first talk, then touch, then move.
Take home message
All members of the neonatal team should support parental emotional connection and autonomic coregulation.
References
Als et al (2012) NIDCAP improves brain function and structure in preterm infants with severe intrauterine growth restriction. Journal Perinatology; 32 (10): 797-803
Altimier L and Philips R (2013) The neonatal integrative developmental care model: seven neuroprotective measures for family centred developmental care. Newborn and Infant Nursing Reviews 13 (1): 9-22
Banerjee J et al (2018) Family centred care and family delivered care _ What are we talking about? Journal of Neonatal Nursing 24, 8 -12
Coughlin M (2021) Transformative Nursing in the NICU: Trauma-informed, age-appropriate care. Springer Publishing Company
Welch M et al (2020) Family nurture intervention in the NICU increases autonomic regulation in mothers and children at 4-5 years of age: follow up results from a randomised controlled trial. Plos One
Westrup B (2007) Newborn Individualised Developmental Care Assessment Program (NIDCAP) family-centred developmentally supportive care. Early Human Development. 83(7) 443-9